Dear Friends
Many of us who have worked in e-Commerce or any business related to websites/app, we want to know how visitors have traversed pages (page path flow), what are their interest areas (page sections), what links they click etc.
Since Google and Omniture provide standard report in aggregated basis, it's difficult to find individual online users' data ( untill and unless you have a single user per day - not an ideal scenario) and behavior. Let's see what Omniture and Google has to offer to resolve this problem statement. Let me start with Omniture:
1) Using Omniture Site Catalyst 14/15
Use Case 1 : You are sending emails to current and prospective customers, you want to know which ones accessed your site, which pages and what clicks they have done? 
Use Case 2 : You might want to re-market to specific audiences ( as a pool of 100+ prospects) using FBX or Google Remarketing on Display/RSLA (by creating remarketing list) or on recently launched LinkedIn Lead Accelerator
Assumptions : You have set up Conversion Variables (eVars) for campaign ID and email IDs
Steps :
Configure SiteCatalyst which eVar to use to store Unique Visitor IDs. Use e-mail ID's which has , in this particular example, been labeled "Responsys ID" as per fig 1.. In the Admin Console, select the report suite(s) and under the conversion area, select "Unique Visitor Variable" as shown :

Fig 1 : Create Unique Visitor Variable

On the next screen, you simply choose the eVar that stores your Unique Visitor ID (Responsys ID in this example) as shown here:

 Fig 2 : In this particular example, unique visitor variable for emails has been added as Responsys ID

Identify all of E-mail ID's of prospects or current customers who looked at a particular website offer. To do this, go to the eVar report that stores all of our website Offer ID's which might look like this:

Additionally you can create a segment by using 'Segment Definition Builder' as shown below to get segment data on various pre-defined metrics
1) Using Google Universal Analytics
For users who want to understand from basics, the following figure shows how a visitor is identified when s/he visits webstie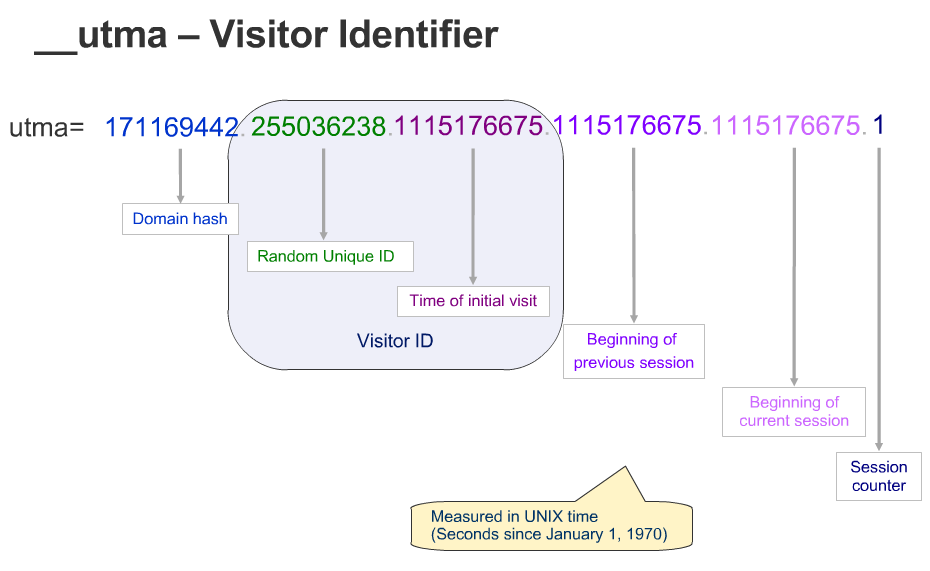 Now you know how Google identifieS each unique user (for a single session for same browser) ; you can now go to customization tab , in Google Analytics and create a pre-defined segment 'single session users' to get data for unique visitors (now called users in Google Analytics).
 Fig : Creating a segment for unique visitors or users in Google Analytics
Once you have created 'single session users' segment you can have data points against unique visitors as per screenshot below. You can now utilize data against 'custom variable for email ids' that you have created earlier in 'secondary dimension' tab.
Additional Resources : 
For any questions, you can reach us at support@marketenomics.com